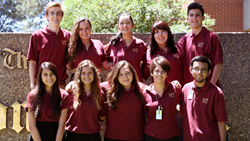 San Diego, CA (PRWEB) September 18, 2014
A group of Latino high school students recently got an inside look at what it takes to become a journalist through U-T San Diegos Young Latino Journalism Scholars program.
This unique program, underwritten by San Diego Gas & Electric, gives students a chance to meet, work and learn from U-T reporters and editors. About 40 students from schools throughout San Diego County applied for the summer program. Ten were selected.
Curiosity, courage, versatility, enthusiasm and a strong work ethic are among the key traits every journalist should have, Jeff Light, U-T Editor & Vice President – News & Content, told the students. Be energized by the act of discovery and sharing, great stories happen everywhere.
The students were taught how to use iPads and given in-depth instruction on how to use them to write news stories, and produce videos, as well as effective-videography and interviewing techniques. They practiced what they learned by interviewing each other.
U-T journalists who worked with the students included Blanca Gonzalez, community opinion editor; Michael Price, director of process improvement and training and photographer Alejandro Tamayo.
Students also shadowed such U-T staff members as photographer David Brooks, U-T TV anchor Luis Cruz, pop music writer George Varga and Pulitzer Prize-winning editorial cartoonist Steve Breen.
The U-T arranged for press credentials for the students to spend a day at the National Association of Latino Elected and Appointed Officials annual conference in San Diego, where they sat in on panels covering such topics as binational issues, education technology and civil rights.
For six weeks, the professionals at the U-T San Diego take these bright and talented high school students under their wing, teach them the tools of their trade, and show them first-hand what its like to work in journalism, stated Frank Urtasun, Regional Vice President of External Affairs for SDG&E. It is an extraordinary program that inspires these students to be tomorrows leaders in journalism, and SDG&E is very proud to support it.
At the conclusion of the program, St. Augustine High School student Alexander Danilowicz was awarded a $ 5,000 scholarship, presented by U-T San Diego.
Alexander is editor-in-chief of the school newspaper, The Augustinian, attended a student journalism camp at Stanford University and is a member of the National Association of Hispanic Journalists.
The other students participating were Serena de la Cruz and Leah Fuentes of San Diego High School of International Studies; Anthony Fregoso of La Costa Canyon High School, Alejandra Lamarque Velazquez of La Jolla Country Day School, Alexa Navarro of Eastlake High School, Paloma Perpuly of Mountain Empire High School, Daniela Nicole Sarabia of High Tech High, Angel Sol